Natural Flavorings &
Extracts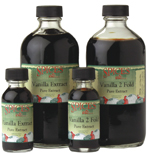 Flavorings, extracts and oils add oodles of options to recipes for hard candies and frostings. Substitute butter pecan flavoring for the vanilla in your pound cake recipe and Voila! It's a Butter Pecan pound cake.

Treat yourself to a rainbow of flavors and aromas when you choose from the 35 natural flavors we offer. Transform your morning coffee with hazelnut or amaretto flavoring. Make a soothing cup of afternoon tea with flavors like honey or blackberry flavoring.

More beverage ideas? How about raspberry flavoring for a sweet, fat-free smoothie to go for busy school mornings? While you're grilling outside with guests add any of these yummy flavorings to chilled sparking water for a thirst quencher with a twist. Be ready for happy hour with coconut flavoring added to fat-free milk, pineapple sorbet and fresh spears of pineapple. Add rum for more zing!
Subcategories:
• Vanilla Beans & Flavorings