Peppercorns & Sea Salts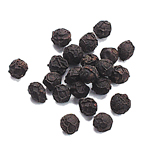 Sea Salt and Pepper are the most familiar of all spices, but sea salt and peppercorns are much more then just a shakers on the table. Peppercorns and sea salts are versatile and used in every diet imaginable, from Vegetarian to Kosher and even low salt! Beyond simple black and white peppercorns, they can be pink, grey, green and blended together. There is a charming variety of peppercorn grinds, from fine to coarse and whole for grinding.

The ultimate upgrade in salt is Fleur de Sel; literally the flower of salt. Sprinkle Fleur de Sel on a fresh tomato slice for a taste of heaven! Sel Gris Grey Salt is filled with nutrients from the clay-lined ponds in France where it is mined and has a lower salt content.

Grinding your own fresh peppercorns and salts guarantee maximum flavor and enjoyment, so be sure to treat yourself to one of our quality grinders; they make thoughtful wedding or new home gifts.