Gourmet Rices & Beans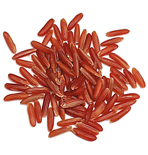 Rice comes in so many colors and flavors that we've put six together for you in a rice sampler! Rice for dessert? Why not, when it's Purple Sticky Rice from Thailand. Its sweetness makes it a natural for puddings and desserts. Bamboo rice is a short grain, all natural white rice that contains pure fresh bamboo juice. Since the grains stick together when cooked, it's perfect for sushi.

Lentils are a popular and healthy choice for soups and make a divine cold salad with Feta cheese and dressing. Our Autumn Lentil Blend puts all of the colors of the season into a protein-rich blend with 5 kinds of lentils. Grandma's Bean blend has eight types of beans for any recipe that calls for a combination of legumes. It's fun to serve dishes with all of these bean colors, shapes and textures. Need more? We put together 10 beans for our Ten Bean Blend! Just add the beans to rice and top with cheese and onions for a super quick dinner. For a more Cuban style, add chicken, sausage and spices to black bean soup for a one-dish meal.